How to install and set the LCT Screen Saver on your computer.
For windows 95/98/ME/NT/2000/XP
I don't know if it works for Vista if you have tried it and it works with Vista please let the webmaster know.
---
Download the Screen Saver
Or Download the Screen Saver with sound
Or the Outer Island (Former LCT 103) Screen Saver
1. When the file has downloaded, simply double click the icon for it (LCTs.exe, LCTpipe.exe or LCTsound.exe) from the location you saved it to.
2. Click on install and the Screen Saver will then install itself in the directory C:\Windows\System. Note: for windows NT users change this to C:\winnt\system32
3. To set the Screen Saver, use the Right mouse button to click on Any free part of your desktop , which will show a small menu under the mouse pointer. Select "Properties" from the menu (the bottom one), and click on it.

4. This will show a window called Display Properties, among the tabs at the top should be one called "Screen Saver", so click this one.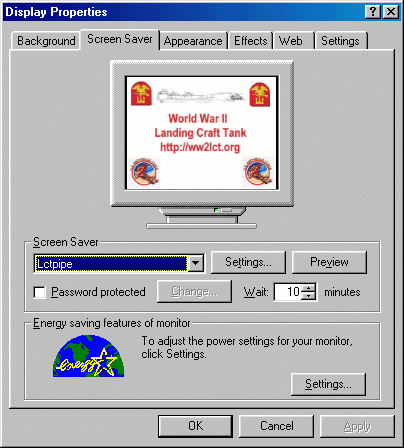 5. The Screen Saver should already be in the Screen Saver box, if it is not then click on the down arrow and choose it from the list. If it doesn't appear in the list then it is not installed, and you should go back to step1.
6. Click on Preview to test it or Apply and then OK to set it as your Screen Saver.
7. Click on the settings button to adjust size, speed and mute the sound.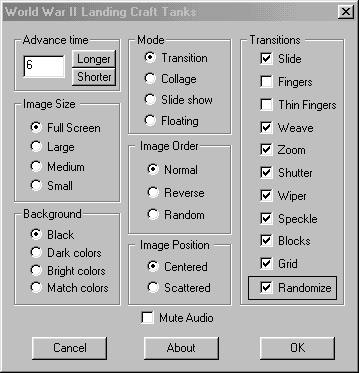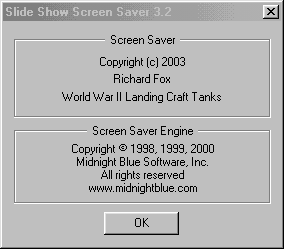 Download the Screen Saver
Or Download the Screen Saver with sound
Or the Outer Island (Former LCT 103) Screen Saver