LCT Windows Wallpaper
How To Install LCT wallpaper
=============================================

1. Download the file you want (LCTxxx.exe) and note the directory
you saved it in, example (C:\temp)

2. Next go to that directory and double click on the file. Then
click on unzip and it will be unzipped to your windows directory
(C:\windows)


3. Windows 95/98 users ( its the same for windows NT, 2000 and XP) should right-click on the Desktop and selectProperties to obtain the Display Properties dialogue box.



4. Click on browse if its not listed in the select window, you
should be in the windows directory. Locatethe file (LCTxxx.bmp)
that you downloaded and click on it, then click on open. The
picture should now be shown in the window of the Display
properties dialogue box. Now just click apply and then OK.
The picture should now be your wallpaper Enjoy.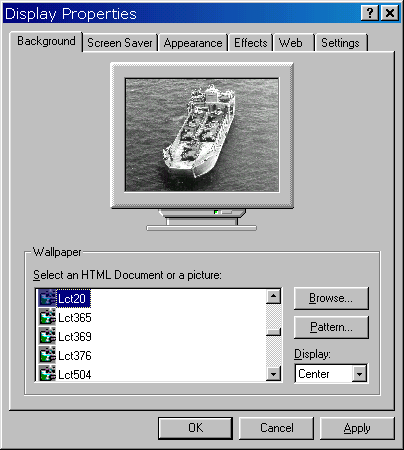 For best results your screen area should be set to 800 x 600 pixels.

Click on the thumbnails to view the picture
thumbnails generated by ThumbsPlus
Click on the links below to download the wallpaper
LCT20.exe LCT365.exe LCT369.exe LCT376.exe LCT504.exe LCT81.exe LCT82.exe
407 Kb 291 Kb 322 Kb 377 Kb 382 Kb 284 Kb 384 Kb