LIST OF LCT CREW MEMBERS
*= LOCATED **= DECEASED
| | | | |
| --- | --- | --- | --- |
| name | Rank | Dates of service | Contact Information |
| Russell T Page | SC3c | 9/7/42 to 10/23/45 | n/a |
| n/a | n/a | n/a | n/a |
| n/a | n/a | n/a | n/a |
| n/a | n/a | n/a | n/a |
| n/a | n/a | n/a | n/a |
| n/a | n/a | n/a | n/a |
| n/a | n/a | n/a | n/a |
| n/a | n/a | n/a | n/a |
| n/a | n/a | n/a | n/a |
| n/a | n/a | n/a | n/a |
| n/a | n/a | n/a | n/a |
| n/a | n/a | n/a | n/a |
| n/a | n/a | n/a | n/a |
Feedback: corrections, additions, and comments are welcome!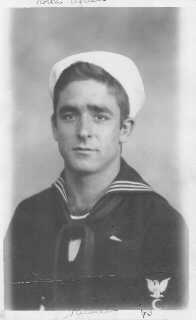 Russell T Page, the first crew member of LCT 22 to report in
(He has no photos of LCT #22, his first ship. He states that it was lost 6 JUN 44, at Normandy.)
Mr. Page also served on LCT 1388
Photo Courtesy of Russell T. Page.
Note: This LCT was attached to flotilla 10 for the invasion of Sicily and was transferred to flotilla 18 for the invasion of Normandy.