LCT 227/LCT(A)2227 FLOTILLA
LCT GROUP Gunfire Support, DIVISION ?
LANDING CRAFT FLOTILLAS, ETO/MED


LCT (A)s where US built LCT Mk 5s that where Lend-Lease to the British and then
"reverse lend-leased" to the US for the Normandy invasion. Click here for more information on the LCT(A)s
LCT(A) CREW MEMBERS

| | | | |
| --- | --- | --- | --- |
| Name | Rank | Dates of service | Contact Information |
| Victor Hicken | Ensign | 1943-1946 | 615 Lincoln Drive Macomb,Illinois 51455 309-833-4429 vhicken@macomb.com |
| na | na | na | na |
| na | na | na | na |
| na | na | na | na |
| na | na | na | na |
| na | na | na | na |
| na | na | na | na |
| na | na | na | na |
| na | na | na | na |
| na | na | na | na |
| na | na | na | na |
| na | na | na | na |
| na | na | na | na |
By Victor Hicken
In 1944, an Ensign
Officer-in-Charge
US LCT(A) 2227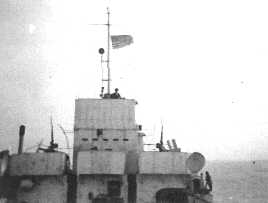 Ensign Victor Hicken at the conn.
If one examines the order of battle for the Omaha landings, he will find that the Gunfire Support Group(LCT(A)s) were, with the exception of the flotation tanks, scheduled to make the first landings on the beaches there. Since few of the flotation tanks really made it, basically the initial assault was thus headed by this special group. Looking back in time, it is chilling to think of what this group was expected to do. Beside being fitted with heavy armor, each boat carried three tracked vehicles, two of them Shermans. Each boat pulled an LCM and also extended paravanes. Each boat carried troops belonging to demolition units. Thus, it was truly a miracle that most vessels crossed the channel though, sadly to say, some didn't quite make it. I still remember when, as dawn lightened the sky, I looked over to the boat commanded by my friend, Tom Lane. Suddenly Lane lost control and his boat made a complete reversal of direction. Eventually he regained control of his boat and made it to Dog White in time for the big show.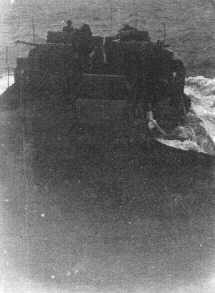 LCT(A)2227, dawn, June 6, heading for Dog Green, Omaha beach.
Carrying three Shermans. Note side stoved in by heavy seas.
According to Stephen Ambrose, the boats charged with landing at Dog Green were among the very few to really hit the appointed spots. Unfortunately, Dog Green lay right in front of the Vierville draw, one of the most heavily fortified of the German positions. We discharged our cargo and, as in the case of Irv Kaufman's boat, we could not retract from the beach. During that fifteen to twenty minute period, the crew huddled in the wheelhouse listening to machine gun and rifle bullets hitting into the armor plate. The bow ramp received a direct mortar hit and eventually fell away from the bow. I will always remember a seaman coming up from below, shouting: "The mattresses are on fire." With my foot I pushed him on the helmet and told him to go back and put out the fires. He did. The incoming tide and a revived winch finally rescued all of us, though just a few hours later we had to rebeach because of the many holes below the waterline.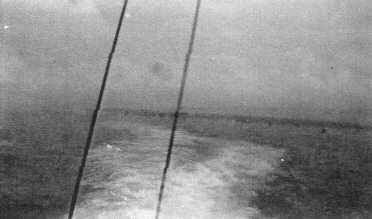 A stern photo from LCT(A)2227 pulling away from Dog Green
6:40, June 6, 1944
One bit more! Co.A, 116th Infantry, 29th Division, was slated to land five minutes later than our boat. They were saughtered: only six uninjured or alive after six minutes of hitting the shore. It was a National Guard unit composed of brothers, cousins, and at least one father and his son. The movie Saving Private Ryan takes place on Dog Green, so perhaps there is some connection between Co. A and the plot of that movie.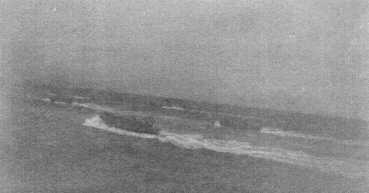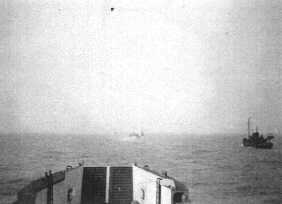 British LCAs, Carrying Co.A, 116 Regt. 29th Div. LCT(A)2227 underway in the Irish Channel.
Heading for Dog Green at 6:35, June 6, 1944


© 2002 LCT Flotillas of World War II ETO PTO